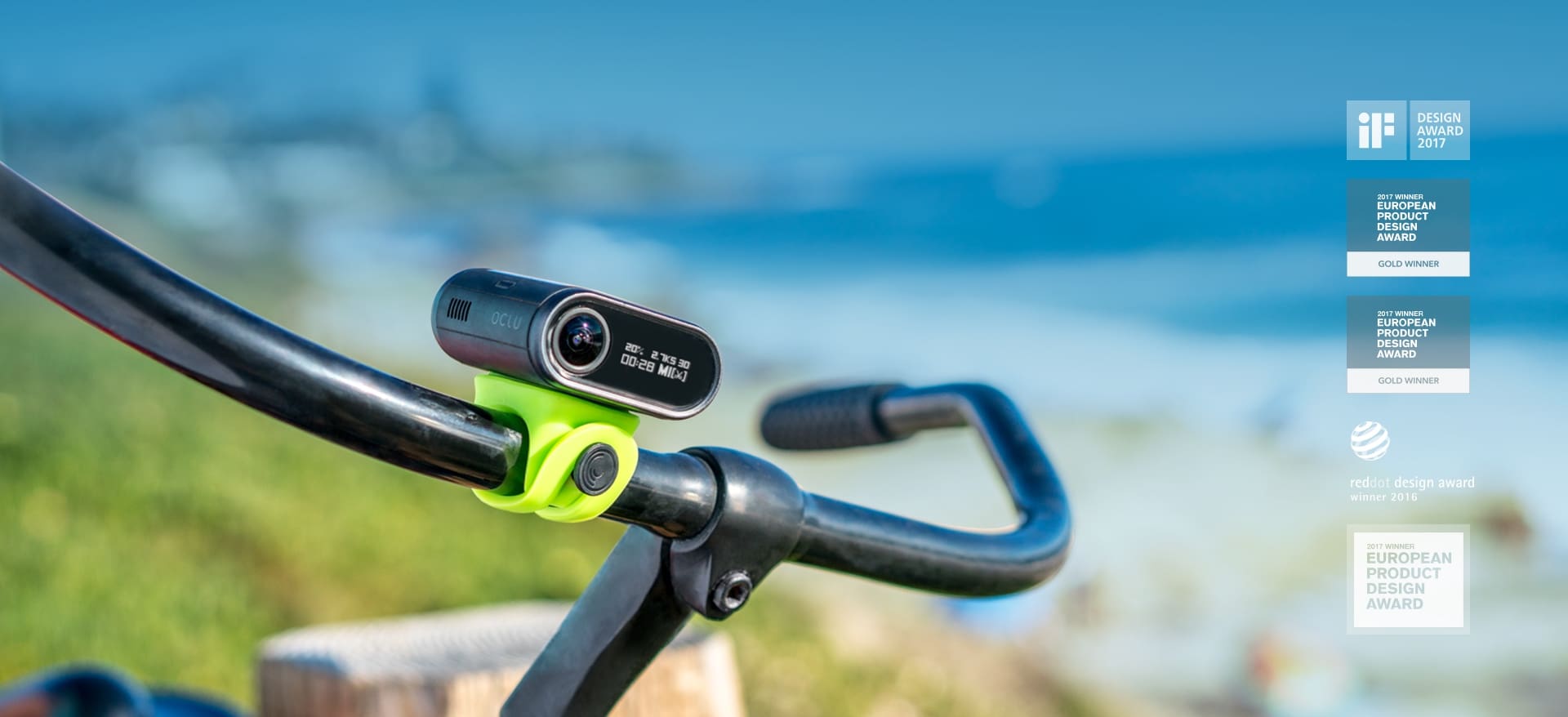 Meet the Oclu Action Camera
Better by design.
Because not every attempt is a keeper.
LiveCut® allows you to delete unwanted recordings on-the-fly. Now you can finish a session having saved only your best clips, ready-to-share.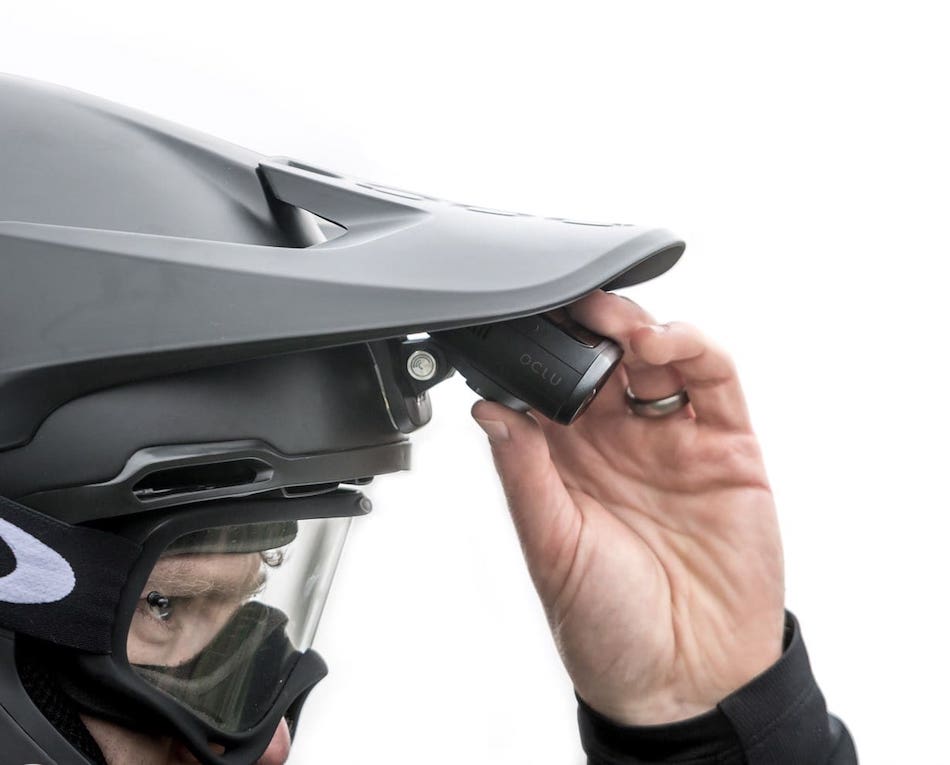 OCLU's low profile design makes it unintrusive and less likely to be knocked out of position.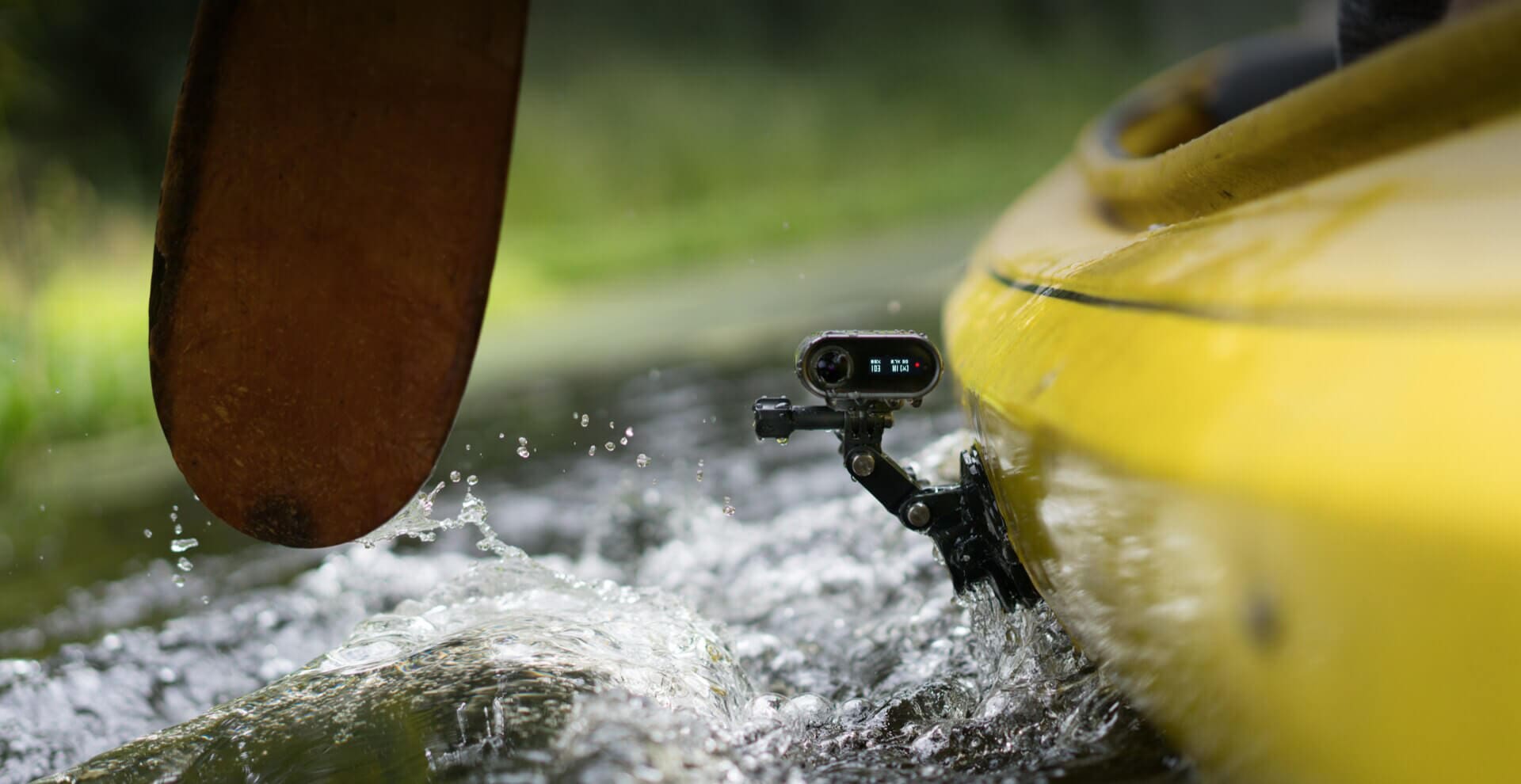 IPX7 Water resistant without OcShell.
OcShell's hydrophobic coated flat glass actively repels water to capture crystal clear footage to depths of up to 165ft (50m). Ultimate durability in and out of water.
*Sold separately
Learn more about OcShell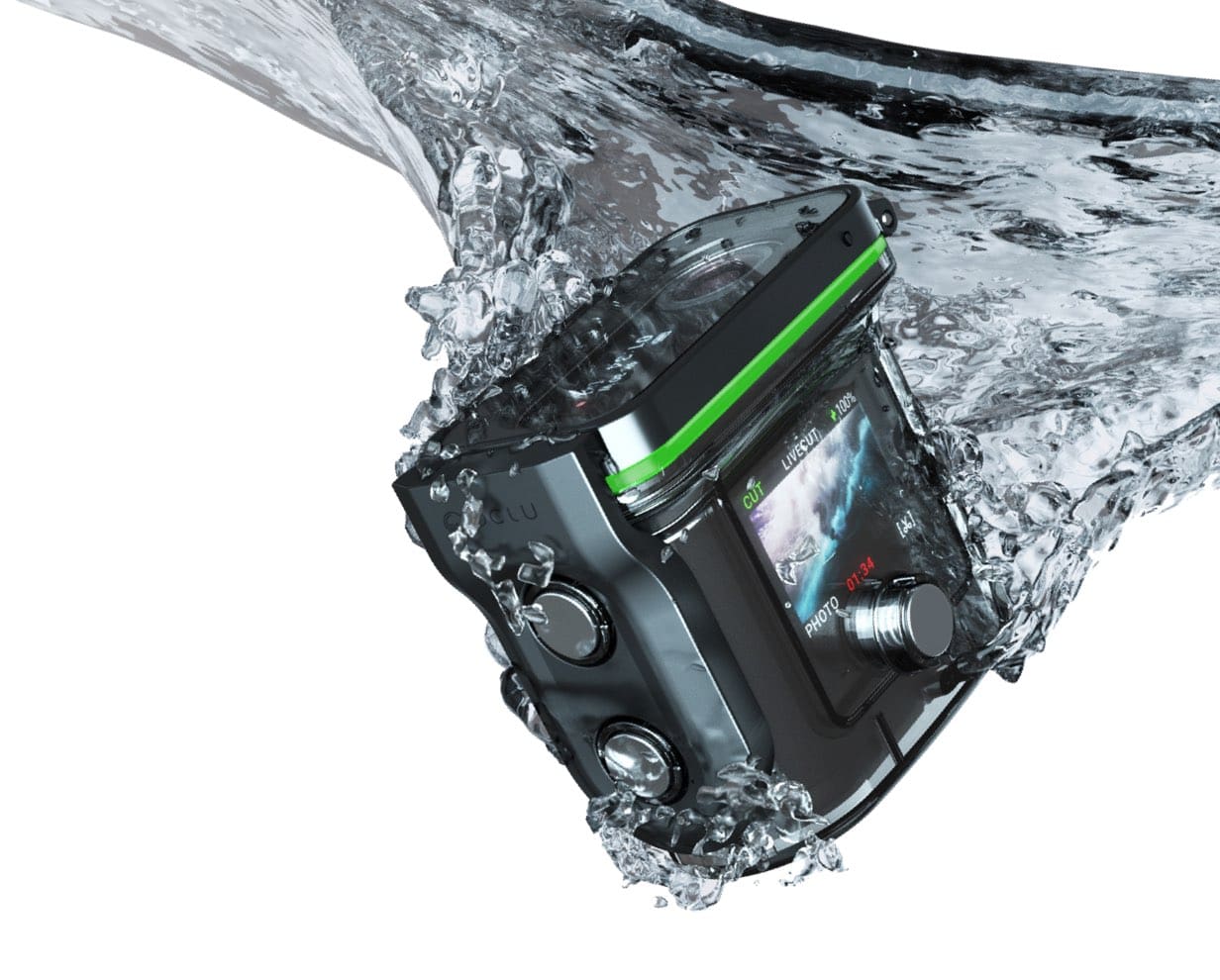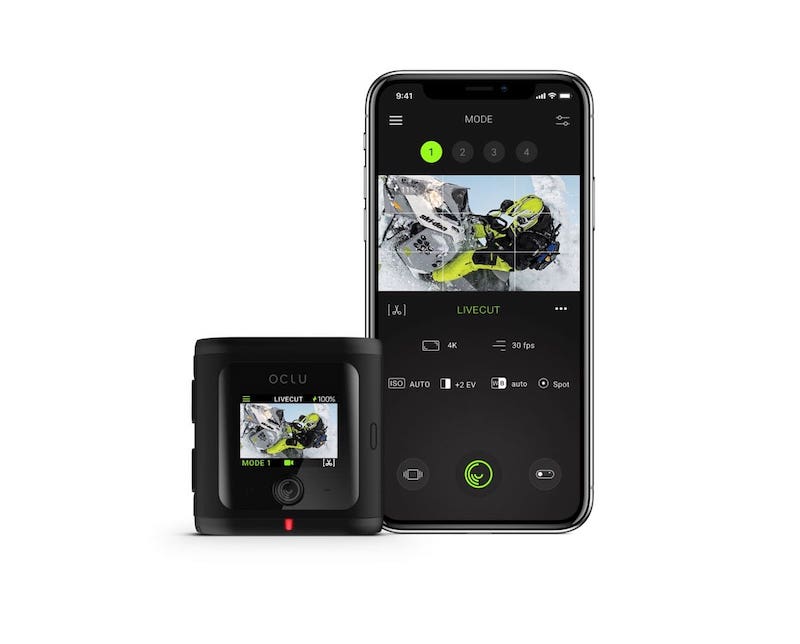 Create four quick-toggle shooting modes to change settings on-the-fly, selecting from eight options.

OcSnap's magnetic connection makes charging and data transfer quick and easy. With interchangeable batteries, you can keep OCLU powered all day.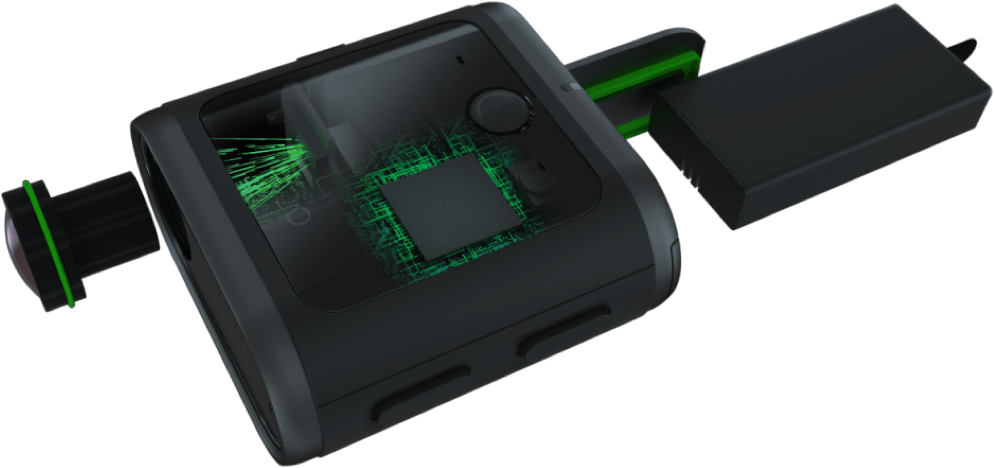 Resolution
4k 30 FPS 1080P 120FPS
Water resistent
IPX7 standard (1M for 30mins).
LiveCut®
Keep the best,
Cut the rest.
Image Stabilization
Super smooth footage
1080P @ 30 / 60 FPS.
Quick-Toggle Modes
4 customizable modes to toggle between on-the-fly.
One Touch Record
One press to turn the camera on and start recording.
Battery
Interchangeable
1000 mAh battery.
Universal Mounting
Standard 1/4" tripod mount & universally compatible accessory mount.
Motion Recording
Motion initiated recording, for wildlife and other applications.
Wind reduction
Microphones on both front and top, independently isolated.
GPS
Records GPS data through your phone and links to content.
Image Quality Optics + Lens
Ultra-sharp image quality
High sensitivity back illuminated image sensor
Ultra-wide angle F2.5 150° diagonal all-glass lens
Electronic Image Stabilisation
1080P 30 / 60FPS
Video Features
4K 16:9 (30 FPS)
2.7K 16:9 (30 FPS Wide, SuperView FOV)
2.7K 4:3 (30 FPS)
2.5K 16:9 (60, 30, FPS)
1440P 4:3 (60, 30, FPS)
FHD 1080P 16:9 (120, 60, 30 FPS - 60, 30 FPS Superview)
960P 4:3 (120, 60, 30 FPS)
720P (240, 120, 60, 30 FPS Wide, Superview FOV)
Photo Features
Resolution: 1/2" 12.4 MP (4168*3062)
Burst Rates: 10/SEC, 5/SEC, 3/SEC
Time Lapse Intervals: 1, 2, 5, 10, 30, 60 seconds
Continuous Photo Rates: Yes
Advanced Features
Built-In Wireless
Wi-Fi + Bluetooth®
Advanced Settings (Photo + Video)
Yes
Auto One-Button Record
Yes
Simultaneous Video + Photo
Yes
High Bitrate Video (H.264)
H.264 BP/MP/HP Level 5.1 and MJPEG
Audio Features
PCM 48kHz 16bit (Automatic Wind Noise Control)
Camera Weight
101g (with battery & metal door)
Camera Size
62.5mm x 61.5mm x 28mm
Show More Tech Details
Every sport, every activity, every angle.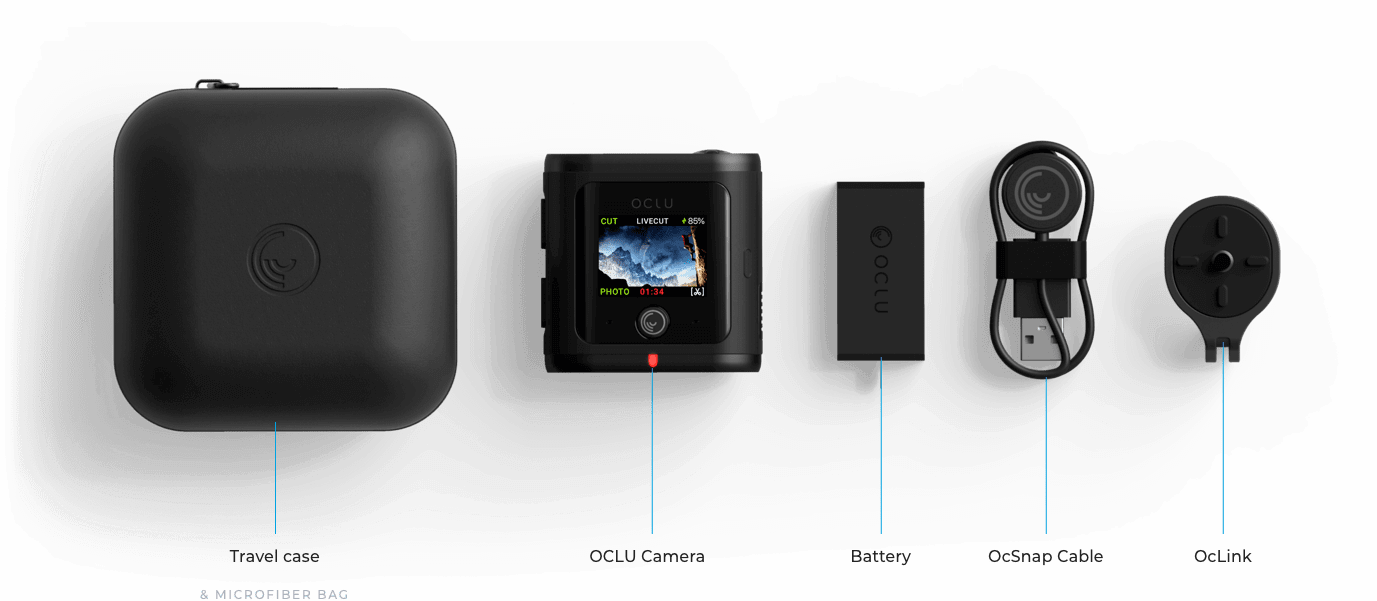 Are OCLU accessories compatible with 3rd party products?

All OCLU accessories either follow the typical action camera mounting system or the traditional tripod screw standard. That means both OCLU and its accessories are widely compatible with most 3rd party products.

Does the OcLink coupling mount come with every accessory?

No. One OcLink comes in the box with the OCLU camera, and this can be used across all of your accessories. Additional OcLinks can be purchased separately on oclu.com
See more FAQs

Join the OCLU adventure. 30 day money back guarantee & free shipping.